Needless to say I have recently taken a trip to LA... I'm home now. :-) But I have to blast my list of a million and two reasons I will never fly

USAIR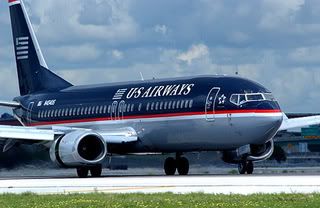 again. I normally fly American Airlines and have a great trip. You buy your ticket you pick your seat and its gravy. But no

USAIR

has a million and three hidden fees. Hell I didn't know if they were a air line or a cell phone company! So I get my tickets *Months* in advance. Didn't price line the ticket just got it right out. They asked where I wanted to sit I picked my seat both ways. So day before I go and

pre

-check in and these fools have me in a aisle seat. (I picked two windows) And told me in order to get the seat I wanted I would have to pay another $15. Now I just paid $15 to check my bag. Paid for the ticket. Wasn't about to pay for a seat that's not in 1st class. BLAH. So I let that go. Then they want to charge for p-nuts and 25cent chips. Starting @ $5 and going up.

WTF

? OK so I wasn't hungry just pissed that all these fees kept popping up. But the reason why I really was up set w/

usair

is hell.. I flew across the country. YES from East coast to West Coast and back again. We talking about five hours in the air. NO MOVIE. Are you for real. I always get a movie. I've made this trip a few times. Never was there not a movie. I mean they didn't do a musical dance number, a mini play NOTHING. What the fuck? They honestly were the worse. Coming back I was stuck in the middle seat which wasn't that bad. (2 all the jack asses that fly don't take your life on the plane. Who wants to wait so long?) But going I can't tell you how many times those air waitresses banged my L-Bo. I couldn't bend it for the 1st two days of my trip. Coming home they were so unorganized I have honestly never been on a plane that did a u-turn to go to another gate. I do give them a over all 3. 1 point for get-n me to and from safely & on time. 1 point for the nonstop flight. and 1 point for my returning air waitress. He was cool. But I will never fly

USAIR

again. 5 hour flight no movie. What the fuck. And it took them 30

mins

to tell us where our bags were going to be... I was pissed to say the lest.



Im

just happy to be home.

Trip recap coming....