Man this has been one of the crazy-est weeks ever. I feel like I'm a sophomore in college again! LOL But the week hasn't been all smiles. Its been bitter sweet. So I'm going to get the bitter out of the way first. This week my extended family has suffered a tragic death. Please keep my Cuz-O and her fam in your thoughts prayers and meditations. I don't think i could ever come to grips with how cold hearted some people can be. It's really sad.
Back to the happier stuff.
I have to take us back to the Quill show. I have a pic that me & DD took before the "Nigga Moment" unfolded.
Photobucket" border="0"> This show as a good way to start the week. From that day we go to Monday. I hung out with my homeboy Bis for some best friend time the god father & egg rolls....!!!!!! Yeah my friends spoil me lol. Now the next great friend event was FREE 99 @ the IHOP! Here we are wildin
Free 99 from Empress Journee on Vimeo.
Yeah we show out! lol. So after returning from my mini trip I got back into the CIAA mood. Went to this event. WoW. It was an OVER FLOW of foolishness in my city this week. I happen to get a few clips and flicks of things that just made me laugh and that I enjoyed lol. So Lets check it out.
We went to this show.... & these women came and sat beside us smelling like a liquor house mixed with rusty ass cigarettes & moth balls. It was the fucking worse. One women got up and left the row because these chicks smelled so bad. Yes I said it. & for me having to smell that shit I'm putting that ass on blast-O
This Chick from Empress Journee on Vimeo. We are so smooth with our blast-o's you wouldn't even seen it coming. Do you see the hair???? Wow. Finger waves and
scrunchies
Yes Scrunchies people!!!! You would have thought I saw a dog walk on two legs the way it that there amazed me. But she didn't top the cake. The topper has to be the lady in this red jacket we spotted @ the Day party... WOOOOOW.... WOOOW.... I don't know what makes me so luck as to be the one who sees such foolishness. But I love my life lol.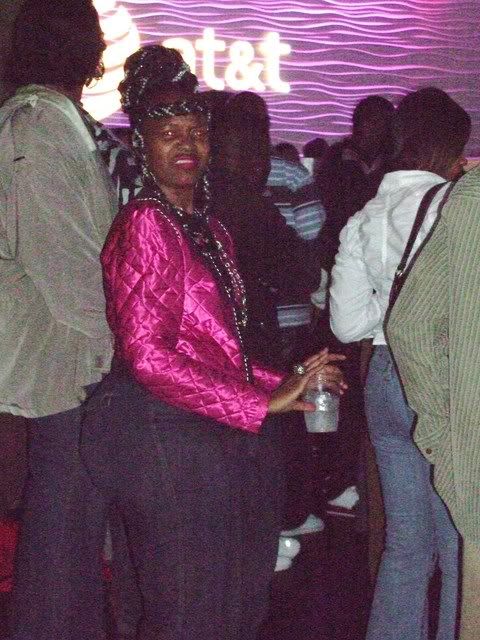 WOW..... Really!!!! Really... she was walking around looking like a extra on star track!!!!! It was that deep!
Untitled from Empress Journee on Vimeo. Now for some reason we always seem to make friends in the club lol. You will see my suite buddy saying random things in the cam lol. Ty from CT! lol (Shot Out to him!) He was in there clowning the star track extra harder then me. & Trust that was way hard to do lol. That lady is a prime example of a women with NO real friends. NONE @ ALL.... It really made me sad to know that her friend pool was so shallow. But I thank who ever didn't tell her to find something else to wear. Because I enjoyed it greatly!

THANK YOU THANK YOU THANK YOU!

Untitled from Empress Journee on Vimeo. O She was going to get it! (Much love to DJ Chase! He killed that day party!!!! I promise you he's doing my next event. I party-ed like it was no tomorrow. Doing everything from the butt to the humpty dance. You don't want it with my humpty.)
Now during this week- weekend... i had a lot of fun. I mean my business partner came down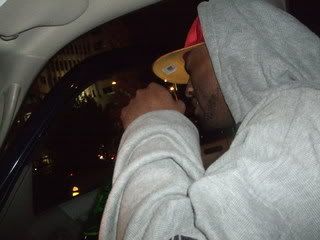 . Man was that trippy. As soon as we get up we get harassed by the police. I have NEVER been harassed by the police NOT NEVER. Sure a ticket here and there. But nothing like what happen. A guy was standing my my car with a beer bottle. He wasn't hanging on my window or anything he's like 20 steps away from my car! When like five cops come to where we are and start flashing lights and quizzing us. I mean I had just got out the house. So I hadn't had a sip of a drink! Didn't smoke not nothing. They were being real extra. Well correction one officer was being willy limp dick extra! The other one's were pretty cool. Looking at his ass like would you please leave these people alone! I promise that prick tried to run down our family trees! Soooooo how do you know them. When did you guys meet. How long you been here. They saw us pull in the lot and look for a park. So he was really being a fucking ass wipe. QC Finest right there. ALL DAY! I have VERY sensitive eyes. So his flashing this light in my eyes was not only extra but hurt like fuck! He held it there for like 4 or 5 minutes. I was seeing all types of spots and flickers. PISSED! I can't stand when some folk get a badge and then want to start act-n all extra.

Needless to say we took off from there hella fast.
Ended up walking down town. Cooling out. & chillin in this lot. Where I slipped up. This chick was FUUUUUUUUUUUUUUUUUUUUUUUUUCKED UPPPPPPPPP!!! Trying to fight everyone in the lot. Shit was just funny to me. & I didn't turn on the cam for nothing. :-( She was funny. Trying to fight the chick trying to help her. & this other kat. I'm not going to put him on BLASTO but this other kat had the nerve to LICK my fucking window. YES! He licked the outside of my car window. That shit was the NASTY-EST crap I have ever seen. So we get into it. He say he didn't lick my window he just put his tongue on it. Really PEOPLE! Say no to drugs! ErRrRrRrRrRrRrRrRrRr...... NEGRO's I tell ya.
Anywho if you can't tell I'm working off of something like two hours sleep. Maybe... But the weather took a turn for the rainy. So the day party wasn't about to go down. Instead me my brother
(I haven't seen my brother in forever. LOL. We close but when you live on opposite sides of town. You have to pick your battles lol. He all buff now look lol.) and cus braved a two to three hour wait @ the cheese cake factory. BANGING. I think my next rant will be getting a cheese cake factory on my side of town. You have to go over the mountain and through the woods to get there now. But we had a ball! & it gave me the boost I needed in order to con.t my party-n lol. This night was crazy. Gloomy weather and all... I did a double hitter that night. Started off with my girls @ Cosmo's! The clips are too dark. from that party. But trust we got some pics. The cosmo's party was crazy! (Shot Out to the guy who kept buying me long islands! lol) Man! SHoW YA RIGHT! I wasn't drunk but I was real nice! lol.
I will party with the green shirt guy any time. He kept the drinks coming lol. LOVED IT. I even ran into my buddy I haven't seen since our day's @ Dub C
But to truely enjoy CIAA you can't just go to one party! Nope flipped it went and kicked it @ the Camp Lo joint! WORD. Almost my whole QC hip hop fam was out there. Man we had a ball. I was on stage act-n up
Charles Herron & E from Empress Journee on Vimeo.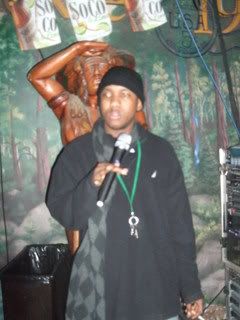 Ike Turnah

Ike & E
The mighty DR! Man I wish more people would stick to vynl. Classic!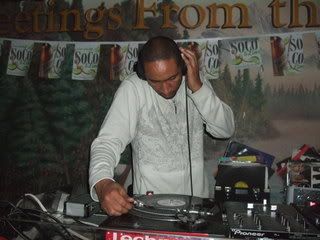 Must be my fav pic of the night. Me hanging with my big bro Chuck Herron & the homie Sonny Cheeba of camp lo. he's crazy! Yes I love it lol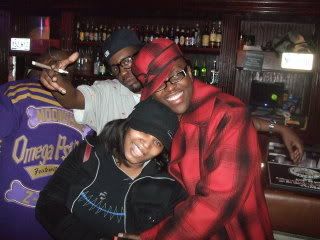 I already told ya you need some good friends. We were hanging hard!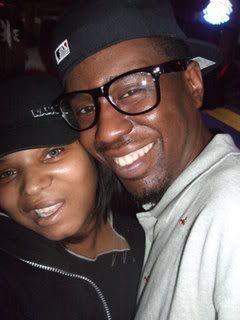 . I don't know about DJ
khalid
But in my eyes these two are the best lol
I promise you it was a crazy weekend
Ike Turnah & Empress Journee' from Empress Journee on Vimeo. And to think next weekend I'm going to be doing it again in ATL! I'm ready!
I'm really living in exciting times!!!!!



"I don't hate players, Im from the crown rhyme sayers
Whatever kid- sayers get down with no delaying
I play my

cards

shark

style, kings and aces
Welcome to QCthe illest of all places"
Camp Lo.