WOOOOOOOOOOOOOOOOOOOOOOOOOOOOOOOOOOOOOOOOOOOOOOOOOOOOW
The oddest things happen to me when it comes to men.




But its this one time that just stands out in my mind. I was @ this R&B open mic set. I'm standing up looking towards the stage when this man walked up behind me. And whispers in my ear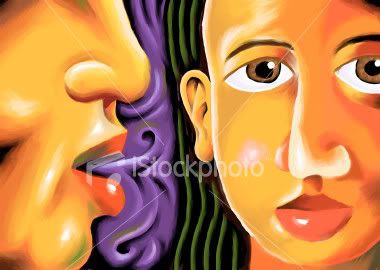 I flip around in full you too close to me. You need to step back. You about to lose ya pinkies and don't know it mode. & fell for it.

I knew he wasn't talking about my butt. Because lets be real I don't have a fatty. I knew he wasn't talking about my hand bag. Come on now. I honestly couldn't figure out what he was talking about.


He looks at me and says

"is your hair real!"
& Before I had a chance to answer him this fool took his whole hand and stroked my hair! REALLY like finger entanglement. Like wrapping my hair around his fingers type rub, & said

"Yeah more women need to start wearing their real hair."

This man looked like he was good and 45 years old! So I knew he knew better! I like to had lost my mind! Not only did he disrespect my space. But he touched a brown chicks hair.


His life was in

danger

and he knew it.
I BLANKED on that ass. Nicely.

Journee's dating rule number one would be

KEEP YA HANDS OUT FOLKS HAIR!

Don't get our wig split unnecessarily!